with Boy M5 | Kate Dineen | Little Kings
Boy M5 are an indie pop rock trio that have continually made waves since their formation in April 2022. With a sound that resonates with the soul and lyrics that cut to the core their blend of heartfelt storytelling and high-energy performance is a surefire recipe for success.
They've enjoyed sold-out shows at Derry's Nerve Centre and a headline performance at Stendhal Festival to go along with widespread acclaim for singles Mountains, Roar By The Shore and Bob.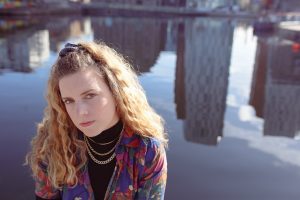 Singer/songwriter Kate Dineen's blend of traditional folk and modern alternative is the result of a lifetime immersed in music – from starting with the tin-whistle at the tender age of 5 before progressing to piano, guitar and vocals, hers is a multi-faceted talent. Her onstage delivery demonstrates a quiet power that is both deft and uncompromising.
Little Kings are a Derry based alt-folk band led by Hong Kong born and raised Ryan Harling. Their debut EP was a colourful, sonically adventurous tapestry that featured an impressive 17 musicians. Their Ghostlight appearance sees Ryan joined by Aoife Mullan and Leah Bell. As a trio you'll find strands of Bon Iver, Father John Misty and The Waterboys. Their new single Hands Were The Sun was released August 12th and a new EP – made possible through support secured from Help Musicians 'Record and Release' fund – is due out on October 7th.